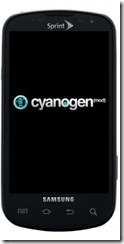 Sprint's iteration of the Samsung Galaxy S, the Epic 4G, has been oft-neglected due to bungled Samsung and/or Sprint OS updates, or lack thereof. In fact it took over a year from it's release date for the Epic 4G to receive an update to Gingerbread 2.3.6. Now it would seem the Epic 4G has finally received official CM 7.2 support in the form of V7.2.0-RC0.
The current bug list has the following:
WiFi Hotspot is broken. Third-party apps are known to work.
Charging notification LED does not light until full charge is reached
Wimax (4G)
Expect these bugs to work themselves out over time.
Source: CyanogenMod forum via SprintFeed