Our friends over at CoolSmartPhone may well have stumbled across some problems with the newly launched Sony Xperia S handset.
According to a screenshot sent to them by Jamie Wright, the phone is loosing power even when the screen is off on a major scale.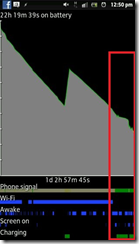 I'm sat in work, phone is plugged into my USB port to top up the charge. Guess what – even without the screen on the battery is going down.
As you can see from the area highlighted above, the handset is charging, WiFi and Screen are off and there seems to be no reason for it.
Does anyone else have this problem or is it, as Leigh Geary considers, a rogue app?
Via: CoolSmartPhone