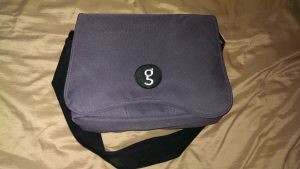 Our first gear bag giveaway was a success! Andrew Whewell of our Google+ community was the first winner of a 7″ messenger bag. If you're not already a member of the community, please feel free to join up. It's public and there is a lot of good news and conversation to be had.
Now on to phase two of our giveaway! This week's social network was voted on by members of the Google+ community. They have chosen Twitter in an overwhelming (unanimous) vote. What does this say for Facebook?!
So this week, beginning now, follow @landofdroid on Twitter and tweet the following:
http://www.landofdroid.com/2013/the-second-gearbag-giveaway/ #LODgearbaggiveaway
As always, it never hurts to follow us on Twitter. I will be polling our twitter entrants at the end of this week's contest as to how to give away the next bag! If you're interested in participating in that activity, follow @eskenyon.
This contest will end around midnight Saturday, the 9th November. Be sure to get your entries in before then!
We appreciate you folks reading our work. You make all we do worth it! I wish each of you good luck.