The Android-X86 project has been walking in the shadow of Googles mobile operating system for some time now and whenever a new version drops it generally takes a couple of months for X86 to catch up.  This time the team were on the ball and have released their first 4.3 test build before many with Nexus devices have had their official update.
Now before you get too excited this is just a test build, what could be considered an alpha at best. While there is a great deal working there are also a great many problems still to be fixed that stop it in any way being close to a daily driver or useful as an effective test environment.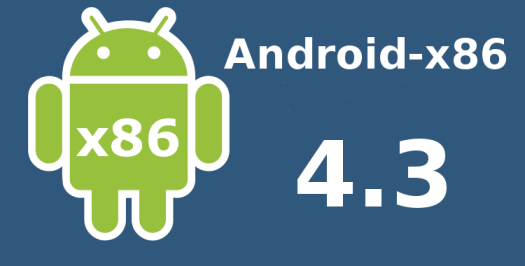 Let's start with the good news, the image will boot and run happily as a live disk and also install to your hard drive as previous versions would. The kernel has been updated to version 3.10.2 meaning that more hardware is supported out of the box with touch screen, wifi, sound, inbuilt Webcam, and physical keyboard all working and adding Bluetooth support which was previously missing. OpenGL ES has been updated to the 9.2–dev branch and arm translator support is also included. Suspend and resume have been reported as not working but some have had success using the fn button to carry out this function. Accelerometer support was also missing on the devices I tried the build on, but for many normal PC users that will not be an issue. The build is however very fast with no noticeable lag in use.
The Play Store is bundled with a large selection of apps available, but not all Google apps will install with Google Plus being the notable exception. I did install an older version I had stored on Dropbox and it ran fine so there is every chance that the new one will also work if you sideload it. YouTube also plays flawlessly at HQ which is a nice change from the last version.
Wallpapers are still an issue but live ones 'play' fine, and sharing the same graphic glitch screenshots are also a no no. Text is also sometimes missing as you will see when you go through the setup wizard and this sometimes manifests itself in apps with WordPress being one.
To try the build for yourself or to get details of the project git source simply head over to the Android-X86 project 4.3 info page. Once you have the image downloaded you can create your USB boot stick with unetbootin or use it to install to a virtual machine. If you are testing on a PC outwith a VM I would recommend you try as a live disk first.
Hopefully development continues at this current pace and more stable and complete builds are made available.