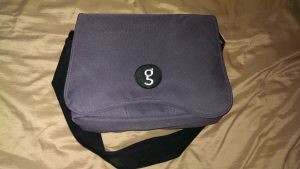 The second week of gear bag giveaway has come to a close. Congratulations to @Disney4life2005 for being the winner! Let us know when you receive your bag.
To brighten up your monday, I'm going to continue the contests. This week we've chosen Facebook as our platform. Entry is pretty simple:
Follow Land of Droid on Facebook.
Like and share the gear bag giveaway post.
Get ready to win!
It never hurts to follow the Land of Droid crew to get our latest posts and giveaways, but this is not a requirement of the giveaway. Submissions will continue until the end of Saturday, November 16. The winner should be selected by Sunday and notified shortly thereafter. Thanks for reading, and good luck!
I ran out to the car today, and discovered the gear bag giveaway was never completed! Oops! My sincerest apologies to you folks on my forgetfulness. Since people will receive gadgets as gifts this time of year, there's no better time to give away something to stow them in. It seems only fitting we do […]
Our first gear bag giveaway was a success! Andrew Whewell of our Google+ community was the first winner of a 7″ messenger bag. If you're not already a member of the community, please feel free to join up. It's public and there is a lot of good news and conversation to be had. Now on […]
When I'm out and about, I need a decent gear bag. It doesn't have to be extravagant, but it does need to hold my phone, tablet, external battery and other accessories I use daily. I found the one pictured above and it turned out to be perfect for my needs. Whenever I find something that […]