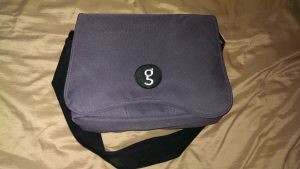 I ran out to the car today, and discovered the gear bag giveaway was never completed! Oops! My sincerest apologies to you folks on my forgetfulness.
Since people will receive gadgets as gifts this time of year, there's no better time to give away something to stow them in. It seems only fitting we do a holiday photo contest to choose a winner! Thank you to the Google Plus community folks for suggesting a photo contest earlier. There are two methods of entry for this one:
Reshare or retweet the giveaway post
Join the Google Plus community and share a holiday photo using #LoDGearbagGiveaway at the bottom of any text posted
Tweet @landofdroid and @eskenyon posting the picture and using #LoDGearbagGiveaway
Since Facebook was a flop, no Facebook entries are eligible.
Be creative! Android is our site's theme, but this contest does not rely on technology being part of the photo or text. The winner will be chosen based on what we feel is the best entry, so take some time to share something really cool with us!
To be considered, you must be following Land of Droid on either Google Plus or Twitter. Brownie points for following our team, but no bearing on the contest. Good luck, have fun and have an awesome couple of holidays! The winner of the last bag will be announced in early January!
Finally, a huge thank you to all of you! We appreciate your readership more than we could ever express. Enjoy time with your family and new gadgets you receive as gifts! Let us know how you like any cool tech you receive this holiday season in the Google Plus Community.
The second week of gear bag giveaway has come to a close. Congratulations to @Disney4life2005 for being the winner! Let us know when you receive your bag. To brighten up your monday, I'm going to continue the contests. This week we've chosen Facebook as our platform. Entry is pretty simple: Follow Land of Droid on […]
Our first gear bag giveaway was a success! Andrew Whewell of our Google+ community was the first winner of a 7″ messenger bag. If you're not already a member of the community, please feel free to join up. It's public and there is a lot of good news and conversation to be had. Now on […]
When I'm out and about, I need a decent gear bag. It doesn't have to be extravagant, but it does need to hold my phone, tablet, external battery and other accessories I use daily. I found the one pictured above and it turned out to be perfect for my needs. Whenever I find something that […]